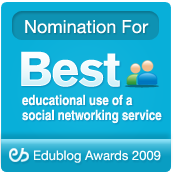 The RSC Access and Inclusion Forum has been shortlisted for the international Edublog Awards for best educational use of a social networking service.
The Edublog Awards are an annual, community based programme which recognises and celebrates excellent practice in the use of weblogs and social media to facilitate education. Entries are welcome from any country, in any language, from educators working with any age group or type of learner, including learner led initiatives.
The RSC Access and Inclusion Forum was started by Craig Mill (RSC Scotland North & East) in January 2009 and already this group has over 250 members. The forum is free for anyone to join and is the ideal place to discuss, share, and join other colleagues who support learners with additional support needs in further and higher education.
Voting has now closed and winners will be announced on Friday 18th December. The awards have 18 other categories with nominations and may be worth browsing for other examples of good practice.